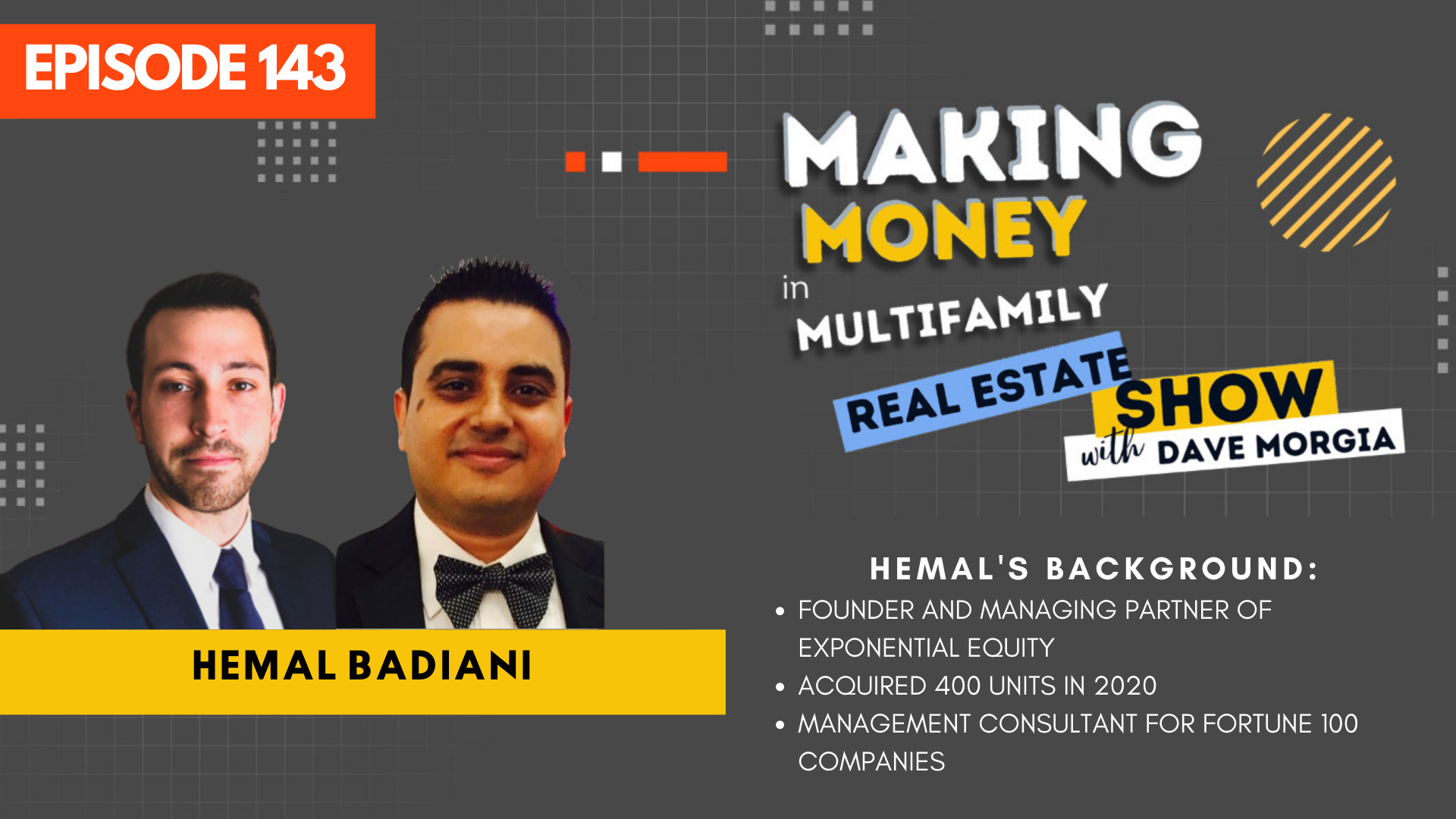 Hemals's Background:
Hemal is the founder and managing partner of Exponential Equity. Hemal started his real estate investing career in 2012 and founded Exponential Equity to focus on his passion of helping busy families achieve financial freedom through fantastic opportunities in commercial real estate investments.
Prior to establishing Exponential Equity, Hemal provided management consulting services to several fortune 100 companies across three continents while creating a portfolio of businesses that he scaled and exited including an outsourcing company and a private lending firm.
In this episode we cover:
00:02:28 Why Multifamily?
00:03:58 Picking investment criteria and sticking to it
00:06:16 100 deals a month
00:09:19 Leaning on your partners
00:11:11 Hemal's superpower
00:13:24 Drinking through the firehose
00:14:48 Hemal's first passive investments
00:17:32 It's Who not How
00:19:46 Outsourcing extraneous tasks
00:21:43 5KQ1 - If you can only pick one trait that explains your success, what is that trait and why?
00:22:49 5KQ2 - What is the most uncharacteristic thing you've done in your business? And why did you do it?
00:24:22 5KQ3 - Can you name a time where you felt like you were not going to end up successful? How did you overcome that fear?
00:25:57 5KQ4 - Can you name a time where something in your business went perfectly and what did you do to make that a reality?
00:27:27 5KQ5 - What have you been focusing on lately to improve yourself or your business?
Connect with Hemal:
Connect with Dave:
Other ways to listen/watch:
Follow or Subscribe:
If you enjoyed this episode or like the show, please subscribe and leave a review! It is a huge help for just a little effort
---